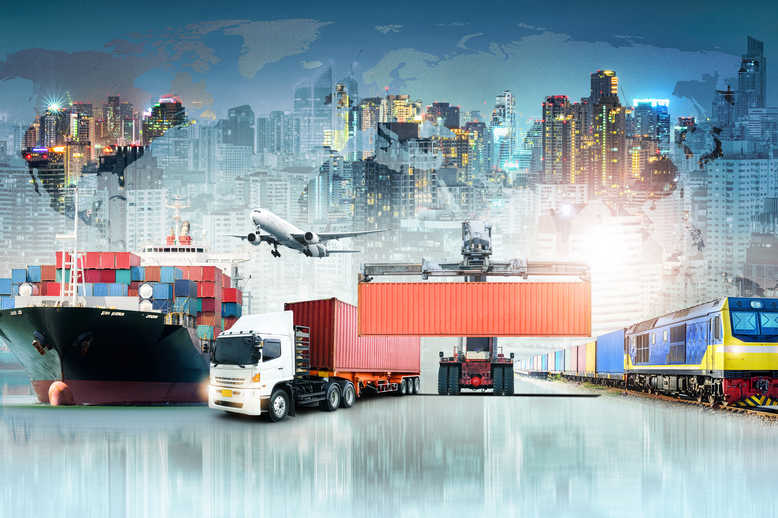 1. Waterways:
Water transportation includes:
Ocean shipping (Ocean shipping) Inland water transport.
Ocean freight is the carriage of goods within or between countries by sea. Ocean shipping was born earlier than other modes of transportation.
As early as the 5th century BC, people took advantage of the sea as transportation route to exchange regions, regions and countries with each other. Up to now, shipping has been strongly developed and has become a modern transport industry in the international transport system. Sea transportation is suitable for bulky, perishable, low-value goods (construction materials, coal, rubber, ..) and bulk goods (coffee, rice), on medium routes. and long, does not require fast delivery time.
2. Methods of road transport (roadways):
As the most popular mode of transport today, goods are transported by different types of road vehicles.
In the two main means of transport on the ground, which are cars and railways, transportation by car was born earlier than transportation by train. The road system in auto transport may be affected by the pre-built road system.
Road transport is suitable for transporting goods with small volumes, short and medium transport distances, perishable goods and goods requiring fast delivery speed. Road transport mainly serves domestic transportation, while for international freight transport, road transport is very limited.
3. Railways (Railways):
Railway transport (Railways) is operated by locomotives (locomotives) and wagons (freight cars) in the form of planes (flatcars) or closed (boxcars).
Rail transport is a modern mode of transport, appearing in the early 19th century (the first steam locomotive was built in 1804). Currently, more than 120 countries use railways with a total length of over 2 million km. Some countries have large railway lengths such as the US (348,000 km), Russia (136,000 km), Canada (70,851 km), India (62,545 km), ...
Rail transport is suitable for goods with large weights, large volume and long transport distances. For example raw materials such as coal, wood, chemicals and low-value consumables such as paper, rice, foodstuffs and freight volumes.
4. Air freight method (Airways):
Air freight uses aircraft to transport goods to their destination.
Air transport is a modern transportation industry. At the end of the 19th century, at the beginning of the 20th century, air transport was just beginning to develop, and thanks to the advances in science and technology, the air transport industry are developing rapidly. Previously, the aviation industry mainly served to transport passengers, today, air transport has been widely used to transport goods within domestic as well as internationally.
Air freight is suitable for transporting high-value goods that require fast transportation. Not suitable for transporting low-value, large and bulky goods.
5. Pipeline Transport:
Pipelines have very high fixed costs and lowest variable marine costs. This is a safe route for transporting liquids and liquefied gases (gasoline, oil, gas, chemicals). The operating costs are negligible and there is almost no loss on the road, except in the case of broken or leaking pipes.
Up to now, transportation by pipeline has been limited only by the huge initial cost and complex design (construction of pipelines, pumping stations, control and control stations). The average speed of this vehicle is quite slow, about 5-7 km / h, but in return the ability to transport continuously 24 hours / 365 days a year and is not affected by the weather.
The method of transportation by pipeline is quite special, only suitable for special goods such as liquefied petroleum gas, oil, ... serving special objects such as multinational companies, multinational companies, or large state-owned companies.